ASSET LIFECYCLE MANAGEMENT WITH FSM
3 October, 2022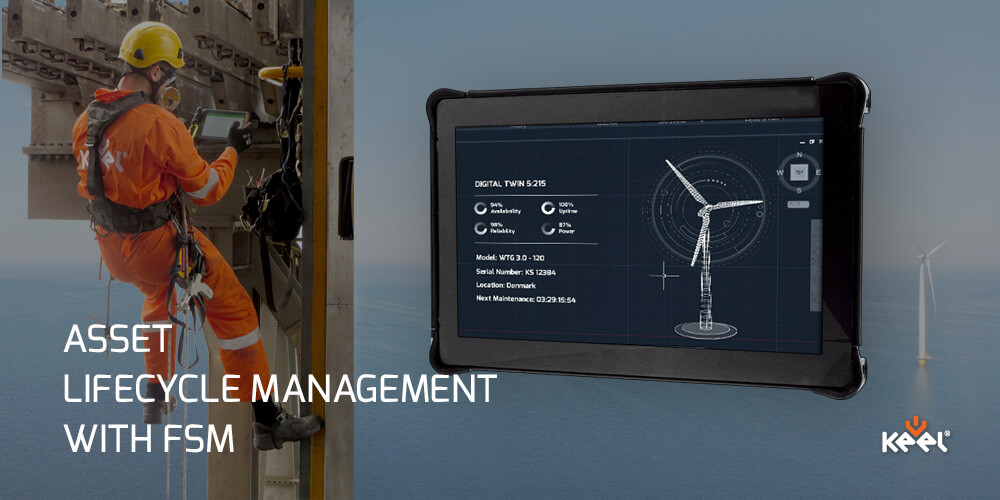 By Igor Pyl, Principal Engineer
ERP systems have come a long way from where they began. In many cases, they are now an integral part of many companies' day to day operations and asset management processes. With such emphasis and reliance on our systems, this inevitably leads us to the questions; Are our ERP systems working well? Are the optimized? How would I even know if they aren't? How can I get the information and data in them to the right people when the need them? There may be more solutions waiting for you than you think!
Introducing Field Service and Mobile (FSM)
Need access to your ERP systems on the go? Field Service and Mobile provides a solution to empower your service operations to deliver world-class, customer-focused service from quote and order taking, through to execution of field service using IFS Mobile Work Order™ for invoicing and analysis. FSM also supports dynamic scheduling of field resources as well as accurate pricing for on and off-contract work within and beyond the warranty period.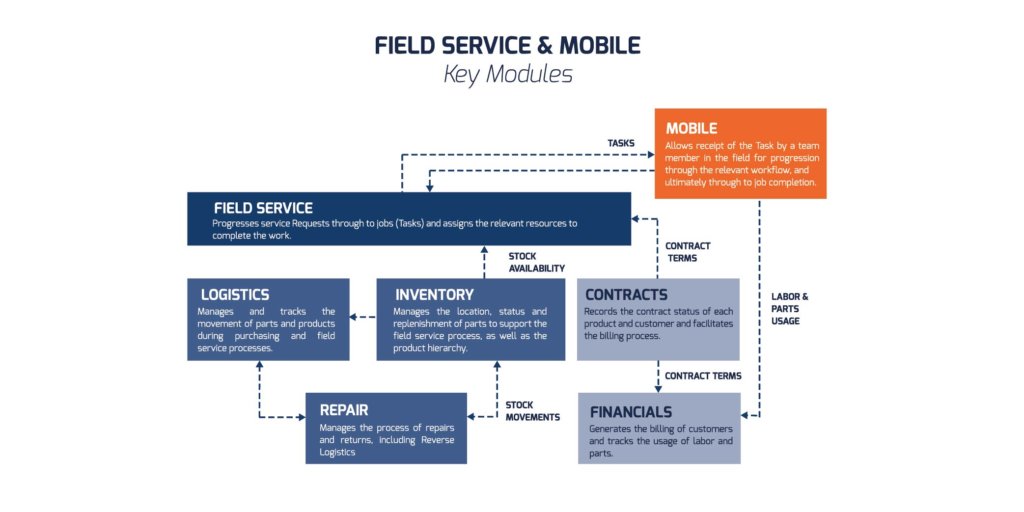 Is ensuring efficiency around the clock a hurdle for you? FSM can also help ensure 24h efficiency in all phases of the work-cycle by empowering each employee, team member, and field technician with the right information, specifications, and template files any time they need them in addition to guiding them with optimized business workflow processes. In addition, each field technician has the ability to operate on the spot, attach work reports, consume parts, register execution hours, travel time & generate billing.
Just blame it on Management!
Your field service management process consists of several key components which can each be carefully customized and modified: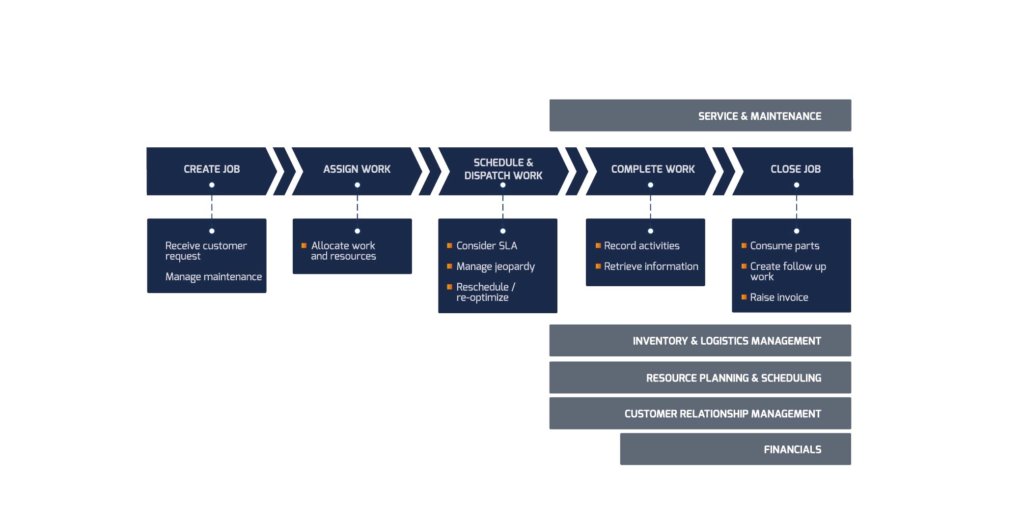 1 – Service Contract Management
Your service contract allows you to accurately specify and control the service level for each of your customers and service activities. This allows you to improve efficiency by automatically checking and following up on items agreed in the contract and in addition provides the ability to setup periodic invoicing of service & maintenance. Careful management of your service contracts can help with:
• Warranty care,
• After-sales care,
• Enhanced service provision,
• Preventative maintenance, and
• Call-outs
Covers business-to-business (e.g., power plants, industrial machinery) and business-to-consumer (e.g., boilers, white goods).
Key priorities / business drivers:
• Meeting SLA
• Intelligent decision-making
• Customer satisfaction and feedback
• Cost management
2 – Customer Relationship Management
Having a good CRM system enables you to create one corporate setting with end-to-end visibility of customer information. With it, you can integrate back-office processes directly with front-office ones. Management of customer communication through the service can be used in a wide range of tasks such as:
• Receiving calls on issues and faults
• Gathering information to support the issue resolution process
• Providing progress updates for customers
As well as traditional call center models, it can also include social media, webchat, remote support etc.
Key priorities / business drivers:
• Customer satisfaction and feedback
• Meeting call/contact targets, e.g., calls per day
• Access to job/task information
3 – Resource Planning & Scheduling
Appropriate systems for resource planning & scheduling can help you manage the complete project lifecycle, resource planning, scheduling & optimization, and budgeting & forecasting to balance competing priorities around service versus cost including:
• Work prioritization
• Field resource management
• Scheduling and optimization
• Jeopardy management
Key priorities / business drivers:
• Balancing competing priorities around service vs cost
• Meeting SLAs and ensuring the right work is completed at the right time
• Maintaining balance between planned and reactive work
• Ensuring engagement and compliance from field workers
4 – Repair, Returns & Reverse Logistics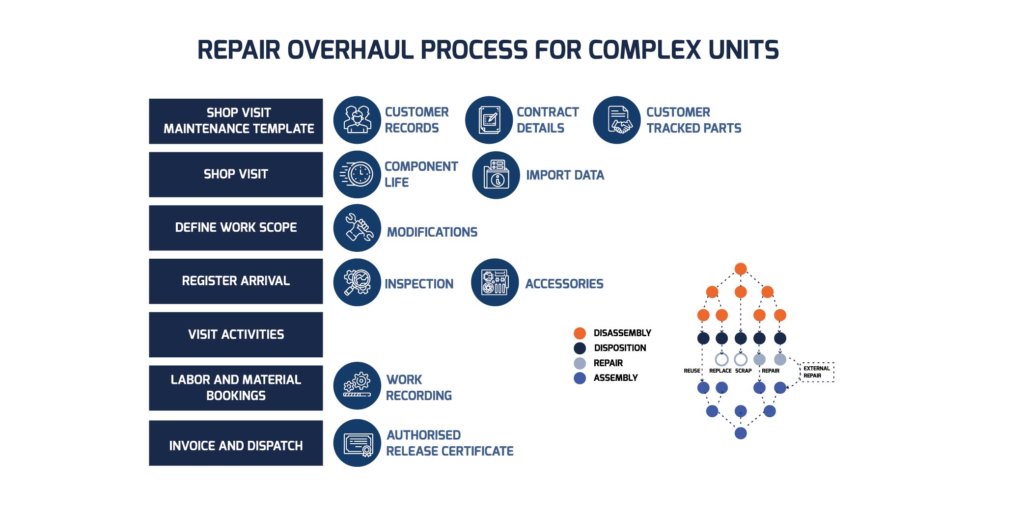 A good FSMP system also facilitates the return and repair of faulty, broken or unused parts and equipment, including:
• Return of parts from the field via stores, collection, or other processes
• Issuing of Return Merchandise Authorizations (RMA)
• Feeding back into quality management processes
Key priorities / business drivers:
• Rate of part returns (avoidance of stock loss)
• Cost efficiency
• Understanding opportunities for improvement
• Providing traceability
5 – Inventory & Logistics Management
Finally, your FSMP system ensures your inventory is clean & efficient and allows you to manage and track the movement of parts and products during purchasing and field service processes – including both internal and external locations. Warehouse management provides support for traceability, shelf-life management, consignment stocks, handling units, put away and a range of reservation options.
• Stock and inventory management and replenishment
• Distribution of required parts to field technicians
• Management of stores locations/warehouses
• Maintaining parts catalogues and information
Key priorities / business drivers:
• Ensuring optimal levels of stock across the operation
• Controlling van stocks
• Balancing travel time/cost against warehousing
• Ensuring up to date asset information
So where to ever get started?
The possible benefits of a good ERP and FSM system are obviously enormous and add efficiency which can your business save large amounts in expenditure. That's great but setting all this up can all seem a little overwhelming and worse, if done wrong can actually end up costing you money! But never a need to worry, Keel's got you covered!
Our Core Services
At Keel, our team of experts offers a wide variety of ERP and FSM solutions to help your teams optimize and set up your systems.
BUSINESS PROCESS OPTIMISATION
ERP implementation, Mobile Applications
Our combination of business knowledge, requirements & functional components provide a set of powerful tools that we use to streamline, simplify, optimize & efficiently handle critical processes. These include business intelligence, sustainability management, supply chain management, service and maintenance, projects, documentation, quality and lifecycle management, mob app integrity & analytics results.
MASTER DATA MANAGEMENT
On top of master data requirements we understand the end-user needs. Based on this we identify the exact characteristics & rules to optimize the work process, including compliance with Standards:
RDS-PP, ISO 14224, IEC/ ISO 81346, eCl@ss, NORSOK
MAINTENANCE SETUP, SUPPORT AND OPTIMIZATION
A combination of different maintenance strategies is the foundation of comprehensive plant protection. To identify the most suitable maintenance strategy we consider the equipment/systems to use criticality and specifically, includingfunctional requirements complying with regulatory law as well as equipment performance standards, class, operating conditions, and placement.
WAREHOUSE MANAGEMENT
In a simple world we see a warehouse just as a box that contains the processes between supply and demand requests, & inbound/outbound processing. Varying concepts of strategies, rules and technologies can be applied and used to ensure that your warehouse is well optimized, cost efficient and a safe-working place instead of having the feeling of being a blackhole.
SMART REPORTING & ANALYTICS
Our experienced engineers, consultants and data scientists use industry 4.0 to transform raw data flows, transactions, and IoT inputs into actionable insights and ML predictive models to maximize output efficiency, profits, process optimization and benchmarking analysis.
Contact Us
Think ERP and FSM is the way to go to help you stay ahead of the game? Get in contact with one of our engineers to help get your systems up-to-date and optimized to meet your needs.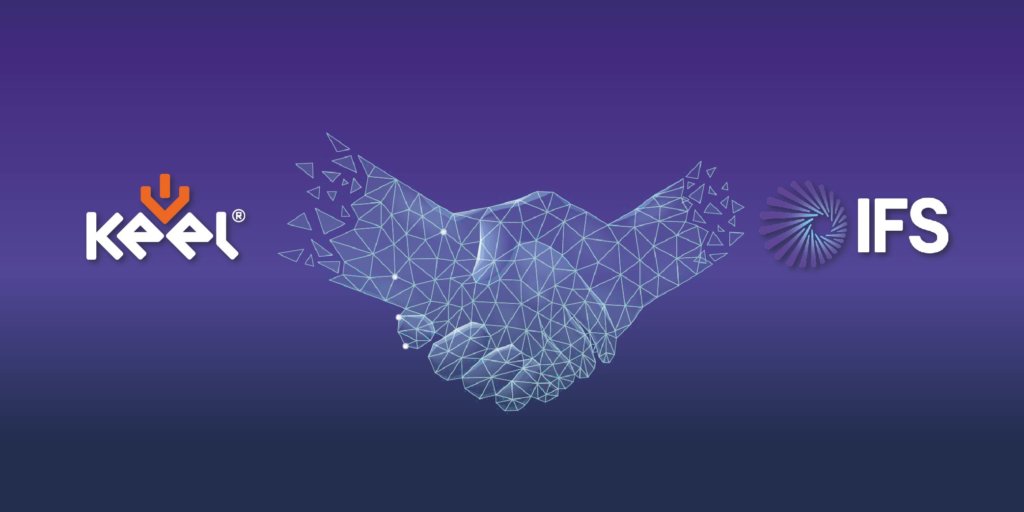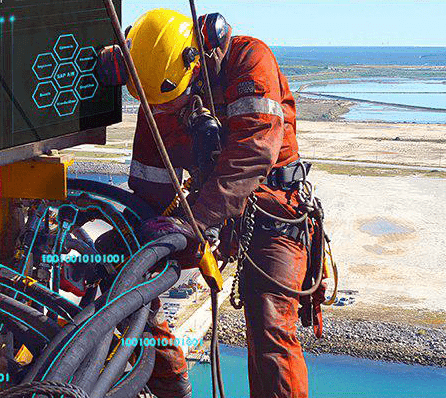 Oil and Gas Asset Data Management
Harness the technology advancements and incorporate the Industry 4.0 into your Oil&Gas business
More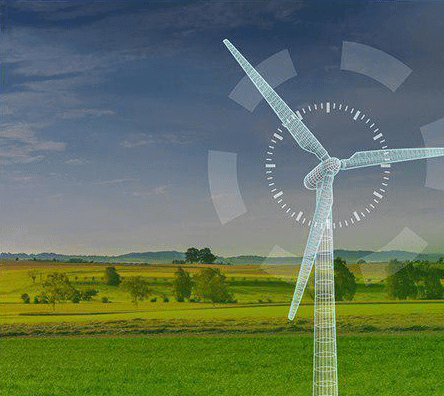 Windpower Competency Center
Opening the door of Industry 4.0 possibilities
More
We are ready to help!
Request consultation, ask a question or share your feedback. Just get in touch!